Note: The following article has affiliate links, by clicking on any affiliate links, you understand and agree that we may earn a commission from your purchase, learn more.
In this blog post, we will explore how Tailwind helps in creating and scheduling captivating Instagram and Pinterest posts and how you can seamlessly link it with your accounts for maximum impact. In the fast-paced world of social media, eye-catching content is essential to stand out among the crowd. Instagram and Pinterest, two popular visual platforms, offer tremendous opportunities for individuals and businesses to highlight their creativity and engage with their audience. Tailwind, a powerful social media management tool, can significantly enhance your content creation process and streamline posting to these platforms.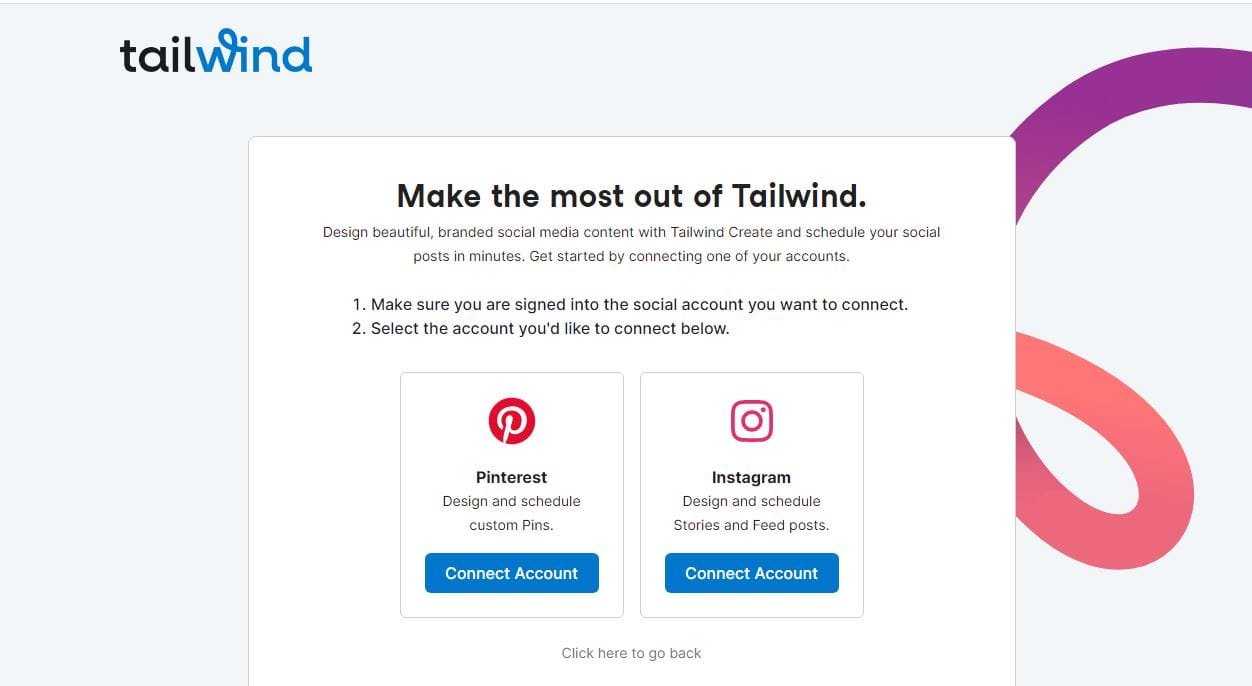 Crafting Stunning Visuals with Tailwind
Tailwind provides a robust suite of features that facilitate the creation of visually appealing posts for Instagram and Pinterest. These features include:
Tailwind Create: Tailwind Create is a game-changer for those who may not have advanced design skills. It offers customizable templates for both platforms, complete with eye-catching graphics, font options, and color palettes. You can easily tailor these templates to match your brand's aesthetics, ensuring a consistent look across your posts.
Image Editing Tools: Tailwind's image editing tools allow you to crop, resize, and add filters to your visuals. This feature is invaluable for optimizing images to the ideal dimensions for Instagram and Pinterest, ultimately boosting their visual appeal and engagement potential.
Branded Content Library: With Tailwind's content library, you can organize and store your brand assets, such as logos, icons, and custom graphics. This convenient access ensures that your branded elements are readily available whenever you need them, saving time and maintaining brand consistency.
Streamlining Post Scheduling and Publishing
One of the most significant advantages of using Tailwind for Instagram and Pinterest is its scheduling and publishing capabilities. Here is how it helps:
Smart Scheduling: Tailwind's Smart Schedule analyzes your audience's behavior to determine the optimal times to post on Instagram and Pinterest. By publishing content when your audience is most active, you increase the likelihood of higher engagement and broader reach.
Batch Scheduling: Tailwind allows you to create and schedule multiple posts in one go. This batch-scheduling feature is a huge time-saver, enabling you to plan your content calendar efficiently and ensuring a consistent presence on both platforms.
Hashtag Suggestions: Including relevant hashtags is essential to increase the visibility of your posts on Instagram and Pinterest. Tailwind suggests popular and trending hashtags, helping you reach a broader audience and attracting more followers.
Integrating Instagram and Pinterest Accounts with Tailwind
To fully leverage the power of Tailwind for Instagram and Pinterest, you need to integrate your accounts with the platform. Here is how you can do it:
Instagram Account Integration:
Sign in to Tailwind and go to the "Settings" page.
Click on "Add Instagram Account" and follow the prompts to log in to your Instagram account.
Authorize Tailwind to access your Instagram account.
Once connected, you can start creating and scheduling posts directly from the Tailwind dashboard.
Pinterest Account Integration:
In the Tailwind dashboard, navigate to the "Publisher" tab and click on "Connect Pinterest Account."
Follow the steps to log in to your Pinterest account and grant Tailwind the necessary permissions.
After the integration is complete, you can begin scheduling and publishing content to your Pinterest boards effortlessly.
Once your accounts are linked, you will be able to see all of your Instagram posts in Tailwind and schedule them to publish on Pinterest. You will also be able to see all of your Pinterest pins in Tailwind and schedule them to publish on Instagram.
Tailwind is a game-changing tool for individuals and businesses seeking to elevate their Instagram and Pinterest presence. With its user-friendly design features, efficient post scheduling, and seamless platform integration, Tailwind empowers you to create visually stunning content and engage with your audience more effectively than ever before. So, why wait? Unleash your creativity with Tailwind and watch your social media game soar to new heights!