World of Warships is a massively multiplayer online game that simulates naval combat. It is developed and published by Wargaming, the same company that created the popular game World of Tanks. In this game, players take control of warships from different nations and engage in strategic battles on the high seas. The game is free to play and available on Windows, macOS, and Linux.
The gameplay of World of Warships:
World of Warships offers a unique gameplay experience that sets it apart from other games in the genre. The game features four main types of warships: destroyers, cruisers, battleships, and aircraft carriers. Each ship has its own strengths and weaknesses, and players must use their ships' abilities to their advantage to defeat enemy fleets.
The game features multiple game modes, including standard battles, co-op battles, ranked battles, and clan battles. Each mode offers a different level of challenge and rewards.
Naval combat in World of Warships:
Naval combat in World of Warships is highly immersive and realistic. The game features realistic physics and ballistics, which means that players must take into account factors such as wind, distance, and the movement of their ships when firing their weapons. Additionally, the game features a variety of different weapons, including guns, torpedoes, and aircraft, which players can use to destroy enemy ships.
The game also features a variety of different maps, each with its own unique terrain and weather conditions. Players must use the environment to their advantage to outmaneuver and outgun their opponents.
Read also:
InboxDollars: The Legit GPT Site That Pays You for Your Time
GetSmarter: The Perfect Place to Upskilling and Future-Proofing Your Career
Getting Started with World of Warship
Customization and progression in World of Warships:
One of the best aspects of World of Warships is the ability to customize and upgrade your ships. Players can choose from a variety of different upgrades and modifications to improve their ships' performance. Additionally, players can earn experience points and credits by completing battles and missions, which they can use to purchase new ships or upgrade existing ones.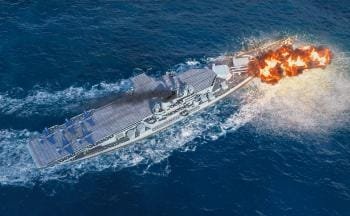 The Community of World of Warships:
World of Warships has a vibrant and active community of players from all over the world. The game features a built-in chat system that allows players to communicate with each other during battles. Additionally, the game has a clan system that allows players to team up with other players and participate in clan battles.
The game also features regular updates and events, which keep the game fresh and exciting. The developers are active in the community and regularly communicate with players to gather feedback and suggestions for improving the game.
Graphics and sound design in World of Warships:
World of Warships features stunning graphics and sound design that help to create an immersive and realistic gameplay experience. The game's ships are modeled in meticulous detail, with realistic textures and animations. The game's environments are also beautifully rendered, with realistic water and weather effects.
The game's sound design is equally impressive, with realistic sound effects that make players feel like they are really on board a warship. The game's music is also excellent, with a stirring orchestral score that adds to the game's epic feel.
Conclusion:
World of Warships is an excellent naval combat game that offers a unique and immersive gameplay experience. With its realistic physics and ballistics, extensive customization options, and vibrant community, the game is sure to provide hours of entertainment for players of all skill levels. If you're a fan of naval combat games or just looking for a new gaming experience, World of Warships is definitely worth checking out.